Part 1 of 2
Justin and I went camping! And we were talking about the different parks we've visited in the Georgia and South Carolina area and determined that I just can't keep good track of them in my head, so I figured writing about them will help!
Writing this down, though, got super long, so I'm breaking it into two pieces. This first one, I'll describe the park. The second post, I'll write about how it went.
So we recently went to the newly renamed Jack Hill State Park. It was formerly known as Gordonia-Alatamaha State Park, which was a tree, and is now named after a state senator who passed away this year.
This park is an easy hour drive away from our apartment in Savannah, located in the city of Reidsville, GA, a community of about 5000 people. It surprised me that the park really does seem to be inside of this town, because once you're inside the park, it feels like you're out in the woods. But if you wanted to run out for food or ice cream, there's a Dairy Queen just outside the park entrance.
Images in this post are scans of the pamphlet that they hand out at the visitor center and had a bunch of ads, which I've removed.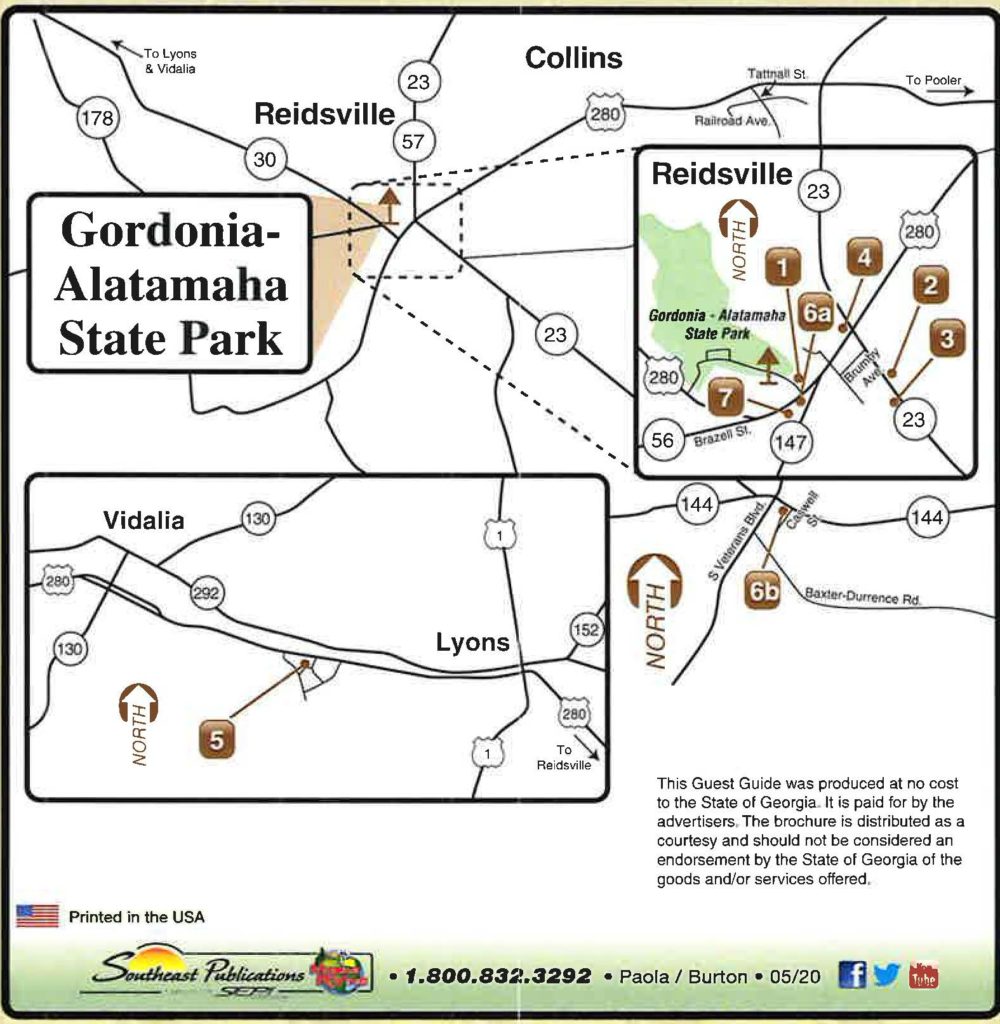 There seems to be a lot of community space in this park — a bunch of kids were playing basketball in the court outside the ranger station. There was a mini-golf course that I didn't see very closely, so I don't know how well it's maintained. There's kayak and paddle-boat rentals. There's a lot of picnic shelters. There's apparently a golf course on the other side of the park that we didn't even see. It makes sense that if the park is going to be located so close to the town, that there be places for people to be gathering there.
Driving toward the camping areas, the road goes over a little dam and around a little lake. There's no swimming allowed, but boating and fishing are okay. There are a couple of docks on the water for that. And a lot of the campsites look out over the water, which is beautiful.
And there's a nature trail that runs along the side of the water and then into the woods that isn't kept up very well so there's a lot of trip hazards and branches hanging low across the trail. We explored it more on our first trip here, but didn't bother with it much this time.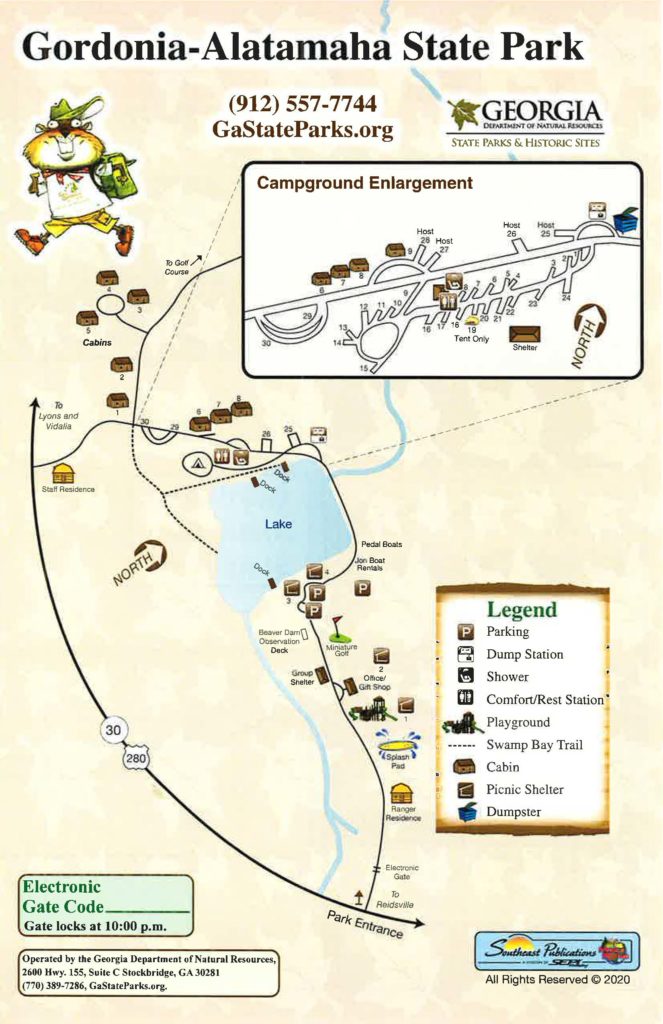 The park has 30 campsites — 29 RV and 1 tent-only. They also have some cabins, but I don't know anything about them. The campsites are all in a loop near the water and fairly close together, but with enough trees and spacing that it's not awful. It's not a place to stay if you don't want to be near anyone, though. You are definitely going to see and hear your neighbors.
If you're not familiar with how camping at a state park works, inside the park will be a ranger station where you can book a site. They will ask if you have any sites you prefer, so if you have previous experience with the park or have researched online, you can try to get a specific site. We're hammock camping, which is considered tent camping, so we chose the only tent-only site at the park, Number 19. We can camp at any of the other sites, if there's good trees in the site to hang our hammocks from. It's a little risky for us to chose a site unseen, but we were fairly sure that the tent-only site would be fine.
People with RVs have to be aware of how long their rig is and how long the driveway at the site is a lots of other things, but since we're not doing that, I can't tell you how that works.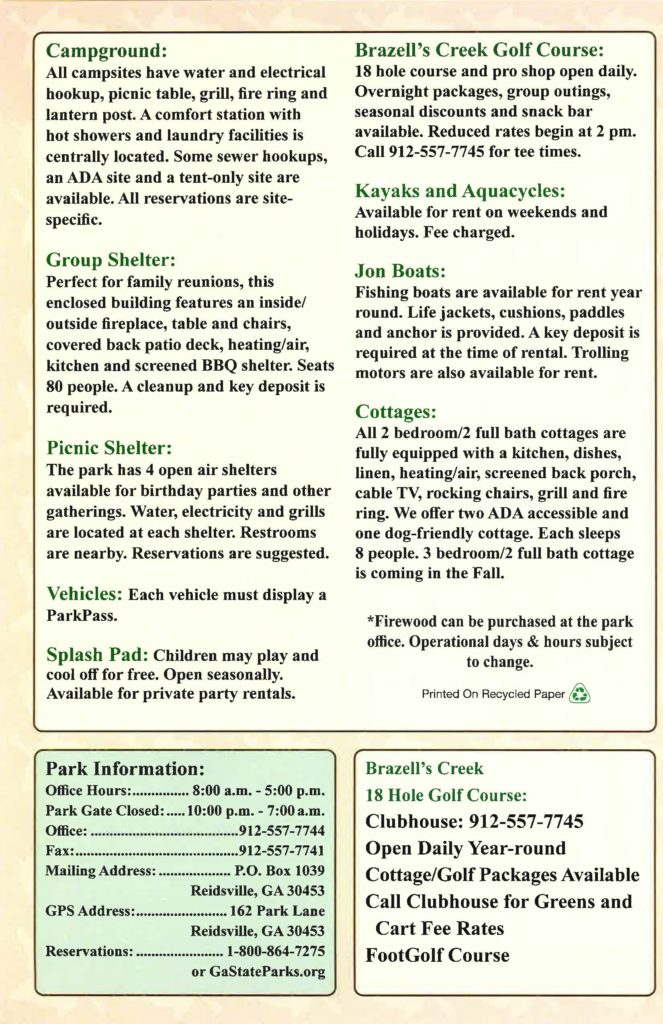 It is possible to reserve sites online and prepay for parking and everything, but we only wanted one night and I think the website has a two-night minimum. And because we weren't completely sure until day-of that we were going, we didn't do that. There's also a box in the parking lot to reserve sites after the ranger station is closed. At this park, however, there's a gate that closes at night and you get the code to get back in through the gate when you get your information packet from the ranger station, so be aware of that if you arrive before the gate closes but too late to get the code.
It's also important to know that State Parks are very insistent that wood NOT be brought from other places into the parks because they're dealing with an invasive species of bugs. So you either have to gather it on-site (if permitted) or buy it at the ranger station. (Don't Move Firewood website.) We tend to buy our firewood there instead of expecting to be able to find enough dry wood to keep a fire going.
And that's Jack Hill State Park! Next post, how our camping trip actually went.