Okay, so what else has been going on?
Happy belated birthday to Amy, Mae, Tim, and Ethan! And happy birthday today to Isaac! We really had intended to send cards or something but my life is apparently insane and I can't get anything done.
Congratulations to Dalton on those first steps! So exciting!
I've taken two classes now on how to use MS Access. I'm trying to learn a new way to keep track of all the information I manage at work and it's being troublesome. It's a whole new way of thinking about what I'm doing. I'm sure it'll work out in the end, but it's making me go around in circles while I try to figure it out.
I've donated platelets several times now. The last time went without a hitch and didn't have any low-pressure problems. The time prior to that, however, was a failure because the pressure was so low I couldn't even manage to get blood up to the machine to start.
On our way back from an appointment for Kay in Atlanta back in May, we stopped to help a woman and her daughter who were stuck on the side of the road with a shredded tire. We learned that we need to keep a better flashlight in the car, that we need a higher jack if we're going to be able to help people who've lost their jack, and that we'd need a better tire iron to get those lug nuts off if they've lost that piece of equipment, too. Fortunately, a Georgia State Patrol trooper stopped and he had all those things and was able to get the women back on the road again. But we were able to help them stay calm and we learned some valuable lessons for ourselves in the process. One of these days, we'll figure out which jack to pick up — hopefully before we actually need it again.
When Mom and Dad were here, the project that we decided to work on was a skinny little table/shelf that goes behind the sofa and has outlets on it, making it easy to access an outlet, even though the sofa is blocking that whole wall. I got the idea from a blog online that I'm too lazy right now to go find. And we kind of adjusted the idea as we went anyway. When they were here, Dad showed Justin how to run the electric by taking an extension cord and splicing in an outlet. And we cut the wood and stained it. After they left, I sanded the wood and Justin polyurethane it a couple times to give it a nice sheen. I don't have any in-progress photos and the pictures I have of it in place aren't super, either. But this is what I've got.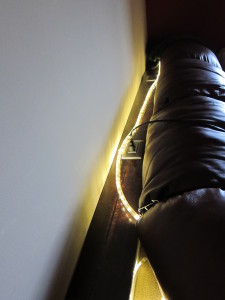 It's just a little wider than the outlets, of which we've got two. One of them is a standard outlet. The other has USB charging slots. We had to order that one from Amazon because no where in town carried them in the nickle color we wanted.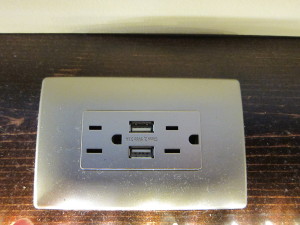 But a gift card from work and an Amazon order later and we've got ourselves a really spiffy outlet.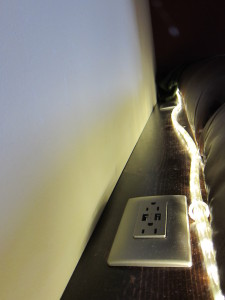 We would like to have installed actual lights into the table, but they were really expensive, so we held off on that idea for now. In the mean time, we've got a rope light that we'd put up the stairs at the other house that didn't have a home yet, and that's filling in the gap for now. It's a subtle light, but nice.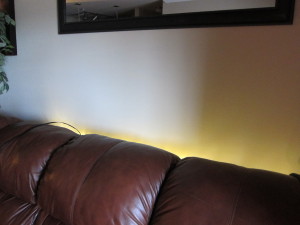 The outlet that's down behind the sofa has one outlet that's controlled from a switch at the door and one that's on all the time. So the outlets are plugged into one and the lights are plugged into the other and it works perfectly!
The table isn't actually put together all the way yet. The long piece was really torqued and we were having trouble figuring out how to actually install the support beams that we cut in order to give it some structural support. We'd really like to do it right with sunken screws and everything, but we don't have the money right now to buy the kreg jig we'd like in order to do it right. So for now, it's tucked back behind the sofa, hopefully getting a little more straight the longer it's there, and when we've got the money for the tool, we'll take it back down and do the supports. And then when we've got more money again, we'll add a lamp or up-wash lights or something.
For now, though, we're really happy with how it turned out. I've actually got my computer plugged into it right now. And it's actually stained darker than we would normally go, but it almost perfectly matches the sofa, so I'm tickled at how that worked out.
Thank you, Mom and Dad, for paying for all the lumber! And for all the help on figuring out how to put it together!
And that pretty much rounds out the news that I've got for the moment. More than what I've mentioned and I feel like I'm complaining about my life, which is actually pretty good, I'm just irritated at parts of it at the moment (55 days) and that's putting a huge grumpy gray cloud over everything. So don't be surprised if you don't hear from me for a while again. I'm not exactly trying to be reclusive or anything. I'm just trying not to be a whiner at everybody. My life is good. I'm just cranky. But things will get better.